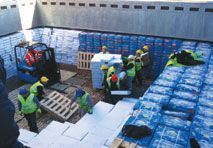 REFRIGERATED CARGO
From the handling of our first ever frozen fish consignment in 1988 we have loaded over 1 million metric tonnes of frozen fish onto Reefer Cargo Vessels for the local fish processors and exporters. We have earned the reputation of providing a reliable, flexible and efficient service ensuring the quick turnaround of all vessels entering the port with proven daily loading rates in excess of 1,200 metric tonnes. We also provide a full range of transhipment services including horizontal "cross docking" facilities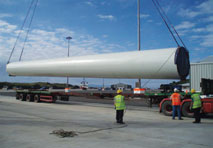 WIND TURBINES
For the logistical professionals developers and manufacturers involved in the handling of wind turbine components seeking the optimum location to discharge, store and ship wind turbines destined for north and west Ireland, Killybegs has become the logical port of discharge.
For over a decade our experienced staff have skillfully handled many cargoes of towers, blades, nacelles and containers of assorted parts for many of the world's leading wind turbine manufacturers such as Enercon, Gamesa, GE Wind Energy, Siemens and Vestas.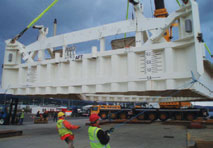 PROJECT CARGO
To better meet the requirements of our clientele, we are always prepared to innovate and to propose solutions tailored to the complexity of specific handling operations.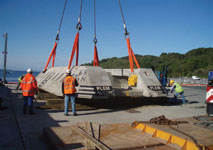 GENERAL CARGO
We handle all sorts of general cargoes,
such as goods on pallets, big bags,
bundles, boxes, crates and pre-slung
cargoes. We strip and stuff containers
and flat racks ensuring that each
load is securely lashed by experienced
personnel.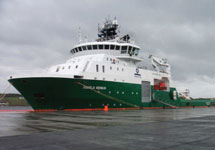 OFFSHORE VESSEL SUPPORT
In addition to being particularly involved with Shell E&P Ireland Ltd (SEPIL) offshore logistics operations in the provision of full cargo and equipment handling services for their offshore vessel support, we have also handled an array of diverse project cargoes for many offshore exploration and construction companies such as Allseas, Technip and Van Oord. These cargoes would have included
dismantled oil & gas installations, jack-up-barges, pipes, transformers, generators, cable reels, anchors and autoclaves.